Three Steps to Mindfulness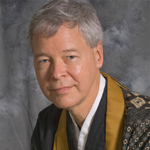 Led by Sensei Ryodo Hawley
November 10, 2012
One Day Workshop
Continuous, clear awareness
of the present moment.

Instead of being clear, our mind is often a riot of stories, buzzing thoughts and emotions. How can we sort it all out?
The Three Steps method presents a new approach to this old problem. We begin with seeing our states of mind as "places" that we visit, then go on to explore the "landscape" of each one. When is it helpful to be in a particular mindstate? When it is time to leave? We'll learn to move between these mental realms at will, and ultimately see how to integrate and balance them, resulting in a steady mindfulness that allows us to live our life in a dynamic way directly inspired by the living moment rather than being unconsciously driven by our fears, hopes and fantasies.
We'll spend class time learning the steps and sit several periods of zazen putting them into practice. The intent is to be able to retrace these steps at will in zazen and everyday life. We also look at how the Steps dovetail with the Three Zen Peacemaker Tenets and other Buddhist practices.
Includes a delicious vegetarian lunch.
Fees:
$40/ZCLA members; $55/nonmembers.
For online application click here.
Contact:
Katherine Senshin Griffith
Program Steward
Phone: (213) 387-2353